Quick Links
Fire Suppression and Rescue Training
The Baltimore County Fire-Rescue Academy maintains an agreement with the Maryland Fire and Rescue Institute to teach fire suppression, technical rescue, hazardous materials, and emergency medical services training programs.  Instructors assigned to the Fire-Rescue Academy are certified Maryland Fire Service Instructors.  They go through a rigorous initial certification process and are required to complete continuing education courses and re-certify every three years.
Firefighter Recruit Programs
The Fire-Rescue Academy provides the initial training required for all sworn career members of the Baltimore County Fire Department.  Recruits participate in a sixteen to eighteen week non-residential academy which prepares them to be successful once they are assigned to field operations.  The curriculum is designed to familiarize recruits with departmental policies and procedures, introduce them to a lifetime of physical health and wellness, and provide the requisite training needed to function as a Firefighter in the Baltimore County Fire Department.  Individuals who successfully complete the recruit training program are awarded college credits through an articulation agreement with the Community College of Baltimore County.
Courses taught include: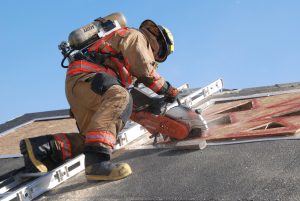 Firefighter I and Firefighter II
Firefighter Safety and Rescue
Emergency Medical Responder
Emergency Vehicle Operator
Hazardous Materials Operations
Rescue Technician Site Operations
Rescue Technician - Vehicle and Machinery Extrication
Lifetime Fitness and Wellness (CCBC)
FRA Staff oversees Primary Recruit Training.
The Fire-Rescue Academy Facility
Baltimore County's Fire-Rescue Academy is situated on 3 acres of land on the former Bethlehem Steel property in Sparrows Point, Maryland.  The academy is a full-service, all-hazards facility which is capable of facilitating fire, EMS, and rescue training.  The burn building simulates a typical two-story dwelling and has a five-story tower attached to practice high-rise operations.  Training props and facilities located at the FRA include:
Full service Class A burn building and tower
Propane gas prop with vehicle fire simulator
Ground and mounted roof props
A customizable self-contained breathing apparatus (SCBA) maze trailer
A firefighter bail-out prop
A state-of-the-art forcible entry prop
A mobile SCBA laboratory
In-Service Training
Throughout the year, the Fire-Rescue Academy Staff conducts suppression training in support of the field operations division.  Biennial refreshers are conducted for the entire department in the spring and fall and cover topics of pertinence to field providers.  The FRA also supports the specific needs of any career or volunteer company upon request.
FRA Staff coordinates the delivery of field in-service training.
FRA Skills Cards
The Fire-Rescue Academy is currently utilizing the 8 Skills Cards while performing the following evaluations, they are;
Return to duty skill enhancement (Skills Cards 2,3,5,6,8)
Initial field validation for recruits  (Skills Cards 1 through 8)
EMS to Firefighter bridge validation (Skills Cards 1 through 8)
Probationary Firefighter One year testing (Skills Cards 2,3,5,6,8)
Probationary Firefighter Two year testing (Skills Cards 1 through 8)
Below are the links to each skill card